Custom House Portrait: A Unique Gift
My first custom house portrait was ordered by a friend, and after finishing it, I found myself wanting to do more.  They are so different than the animal portraits I normally do, and I find them fun and challenging.
It also occurred to me to contact my local realtors, as I think a house portrait makes a great gift for a new homeowner, AND a great gift for someone who is downsizing and moving out of a house they have lived in for many years.
As with my animal portraits, the key to a successful house portrait is a good picture which shows the owner's favorite features of the house, is taken on a sunny day, and is large and crisp enough to show the details of the house.  This is especially true here in the South where many houses have porches.
If you are interested in ordering a custom house portrait, use the form below. Be sure to let me know how you found me!
I create original watercolor paintings. Portrait sizes and prices are as follows:
11 x 14" for $225
9 x 12" for $150
8 x 10" for $110
Once you contact me using the form below, I will get back to you for the details of photographs and your preferred portrait size.  I can mail paintings to most places, but there may be extra postage/shipping charges to places outside of the US.
House Portrait Examples
The paintings below were all done in a larger 11" x 15" or 12" x 16" size to be able to establish the details well.  I  can do smaller paintings for houses which have a more simple exterior.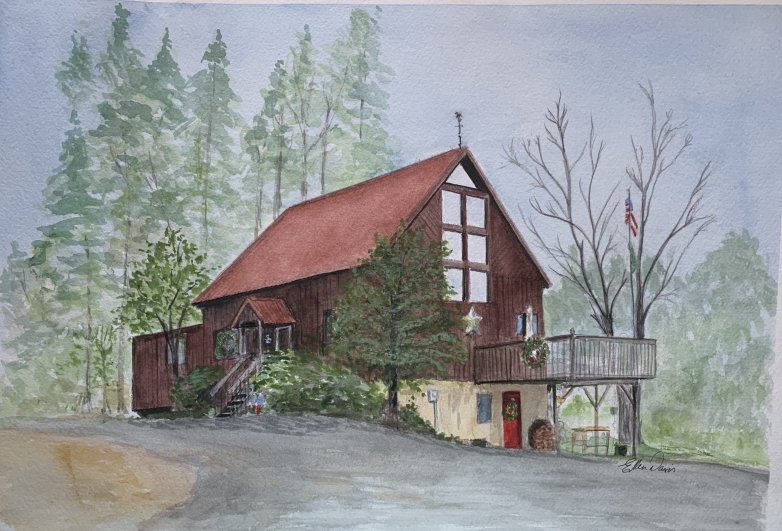 If you are interested in ordering a house portrait, use my contact form.
I am happy to ship paintings anywhere in the US and Canada.
One of the great things about house portraits is that you can have the portrait made into notecards at Vistaprint! Click the logo below to check out this great company.  I buy my business cards and postcards from Vistaprint and the service is great.

---