Painting Wildlife in Watercolor
Painting wildlife in watercolor is a great way to teach yourself how to paint fur markings, and how to pay attention to form and color.  If you are successful, you can capture not only the look of the animal but the "feel" of it.  For instance, a buffalo painting might have a sense of "solid power" in it, while in a butterfly painting, you'll emphasize the transparent delicate sense of light in the painting.
I love to paint animals and over the past few years, I've done many pet portraits. But lately, I've been viewing a lot of wildlife art and teaching myself the paint all kinds of wild animals.
One of main difficulties in painting wildlife art is the necessary reliance on good, sharp photographs.  Most likely, you won't be the person taking pictures of these animals, so you must rely on wildlife photographers.  There are several ways to find and use wildlife reference pictures.  I discuss some below.
Choosing Reference Photographs
You can choose to spend money or go with free photographs, and with either, you have to pay attention to licensing parameters set by the photograph source.
The most expensive way to use wildlife reference photos is to find and buy stock pictures. Shutterstock, iStock, Dreamstime and other stock photo sites are some of the more well-known stock photo sites, but there are others.
If you don't want to spend money on photographs, you can join groups on social media which offer free reference pictures for artists.  Some of these groups have really useful pictures, and some just have junk.  You'll have to join and peruse them to see if the photos are useful. Most of the time, the groups rules ask that you give the photographer credit.
You can also check out free stock photo sites such as , pexels.com, pixabay.com and unsplash.com.  There are various licensing scenarios and most all ask you to reference the photographer.

Choosing How to Paint Wildlife in Watercolor
Once you have your chosen photograph, you can then start the drawing that will become the basis for your painting. During this phase you can determine how to want to interpret the photograph. Will your painting be very detailed and realistic, or will you emphasize some parts over others?  For the elk painting below, I emphasized the animal by blurring and fading the background of the photograph.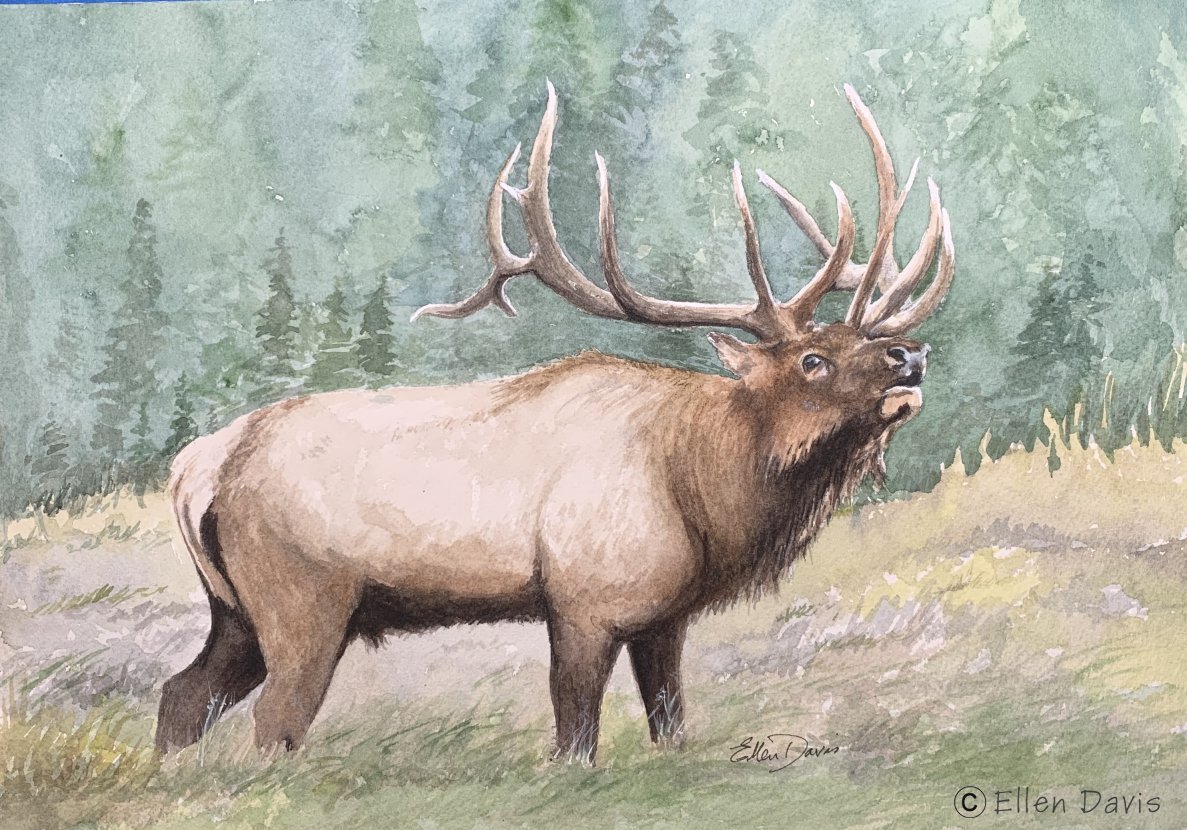 You can also decide at this stage if you will use watercolor paint or watercolor pencils, or both.  I did this coyote in a combination of paint and pencils. I find using the pencils over watercolor paint makes it much easier to render fur markings.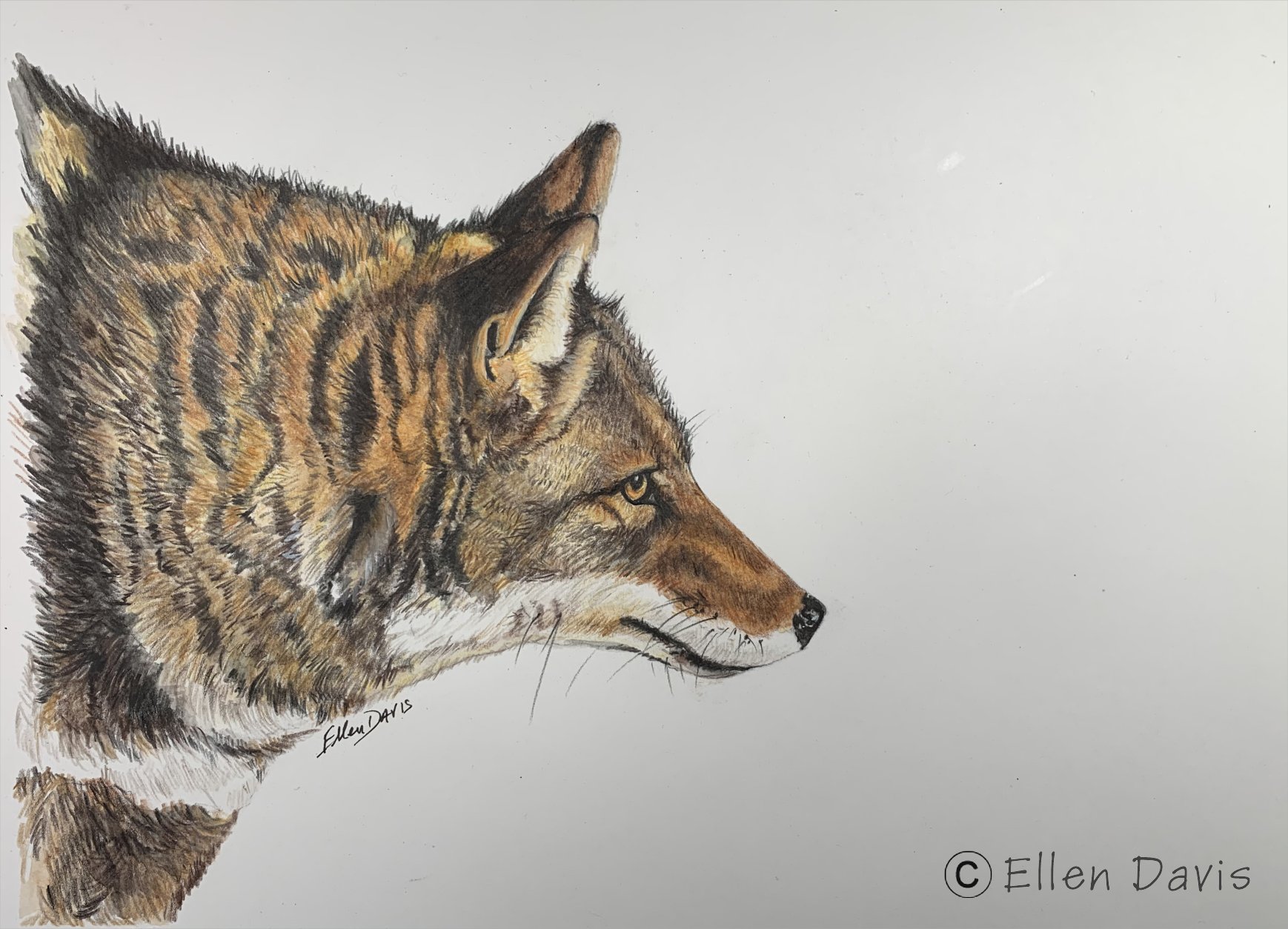 But there are other ways to render fur.  Rebecca Rhodes, one of my favorite animal artists, lays in her fur markings first with a small brush and paint and towards the final phases of the painting, she glazes over them with further layers of paint, which unifies the whole painting.
Sometimes, especially on smooth coated animals, you can give the illusion of fur with just a few strokes around edges wear the animal's color changes.  This is what I did in this painting of an American Pronghorn Antelope. Not the white "tufts" around his horns and where the fur changes color.  Those were added in the final phases of the painting.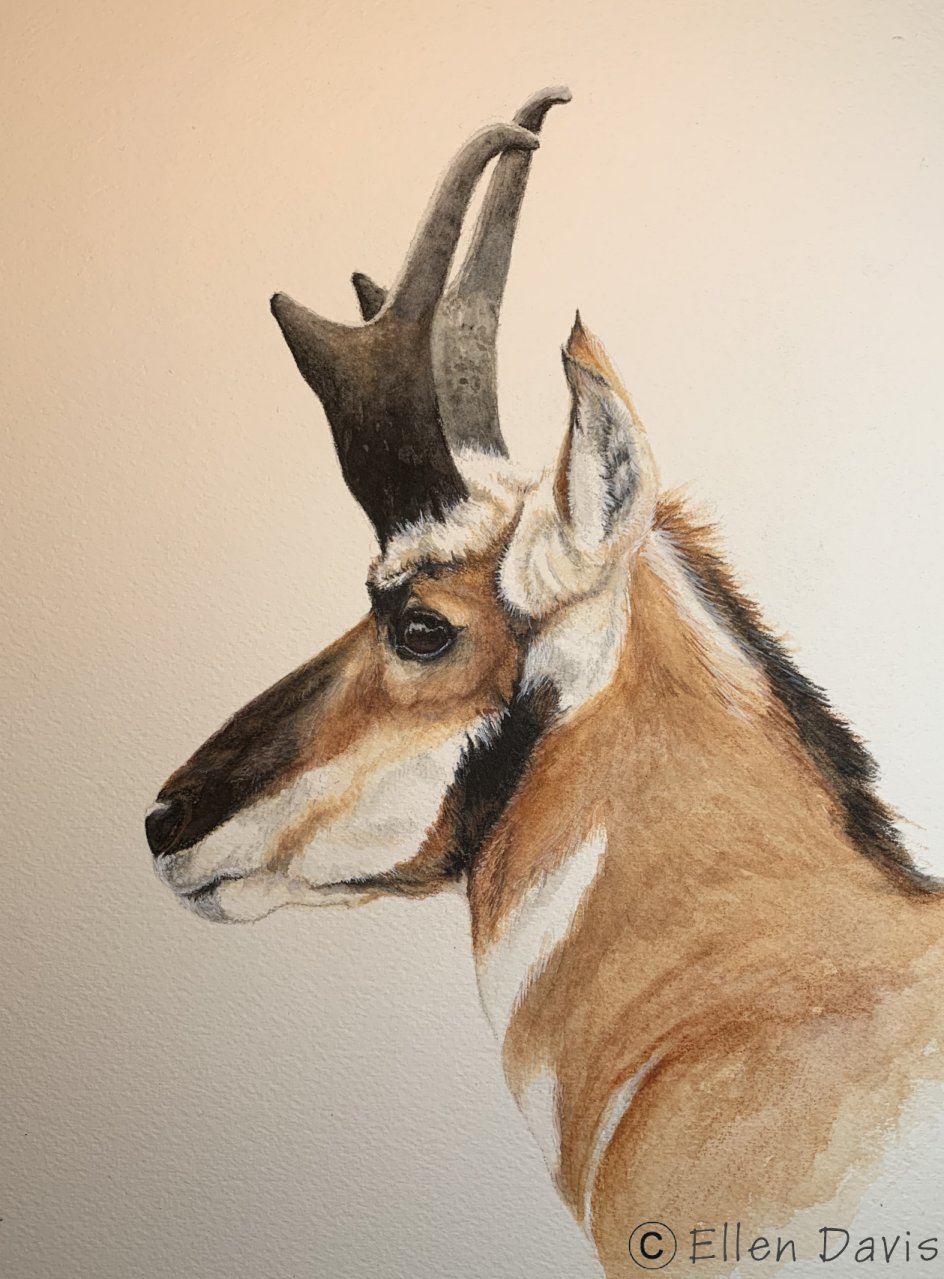 Realistic vs Looser Styles of Painting
I like to paint realistic renderings of wildlife in watercolor, mostly because I haven't learned yet how to capture an animal's essence in a looser style.  Some of my favorite watercolor artists are able to create amazing art using this looser style. For instance, check out Polish artist Andrzej Rabiega. He does some of most beautiful bird portraits with what seems like just a few strokes of paint.  I can only hope to get that good one day.  Morton Solberg's work is incredible as well.  His "Into the Wind" bear painting is one of my all time favorite paintings. 
Here's one of my attempts at a looser painting.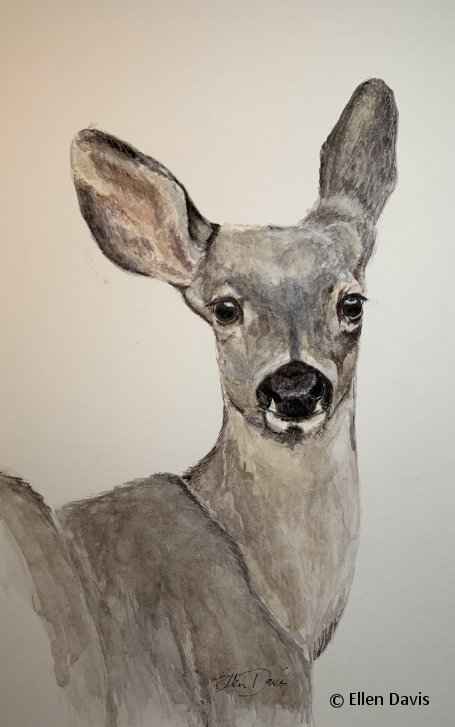 I belong to several "wildlife in watercolor" painting groups on social media and they are good sources for learning and enjoying the results of how others interpret what they see.  I recommend joining a few of these.  You can post your work and get feedback on it, and help other artists by providing feedback as well.
So those are my thoughts and current tips on painting wildlife in watercolor.   Wishing you happy painting. : )