Welcome to Inside Watercolor Painting
Have you ever wanted to try watercolor painting but didn't know where to start?  You might have tried watercolor already with mixed results, or maybe you just want to learn more and increase your skill level.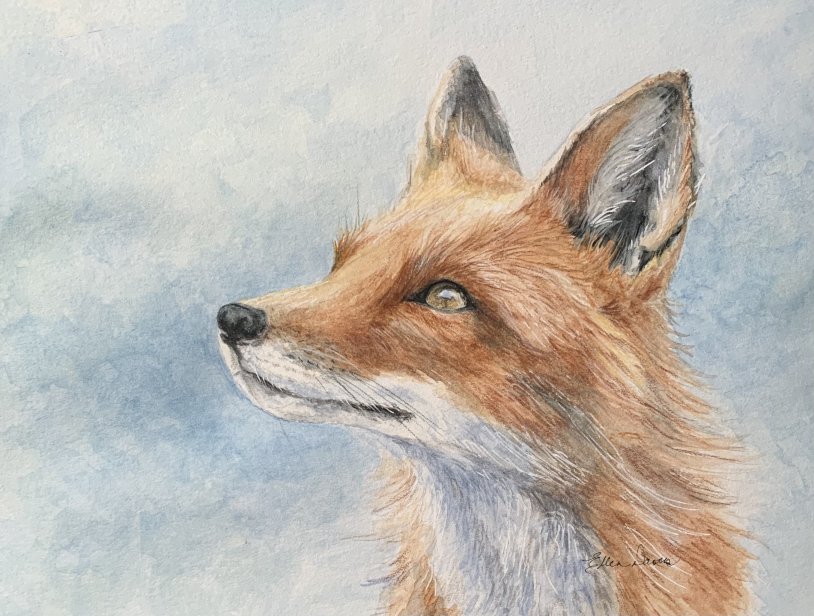 Curious Fox by Ellen Davis
If so, this website is for you! This is place to learn the specific skills for painting with watercolor, why watercolor paint and paper perform in certain ways, why color mixing has a chemical element, how to use various products and tools and more. I'll also share my art, and provide ideas for your own watercolor projects and painting ideas.
Why Watercolor Painting?
You might be wondering why you should learn how to paint with watercolor. 
First, it's relaxing.  I find that painting allows me to access my "creative zone".  That state of mind is very soothing to me because while my mind and hands are focused, worries just fade away.
Second, practice makes perfect!  You've got to paint often to get better.  If you are just learning, try not to stress and worry about your results. Just enjoy what you create at that moment and keep going.  The more pictures you paint, the better you will get.

On this site, I share some of my own struggles and tips on how to get better at watercolor painting, and hopefully, show you that you can learn how to watercolor paint as well.  If you follow and practice the tips and techniques you'll learn from this site, I know that you'll get better and enjoy the watercolor art that you create.
Let's Get Started!
Here's a list of some of the topics that will be covered on this site. 
Ready to learn watercolor painting?  Choose a topic and let's get started!  And check back often, as I'll be adding new content frequently.
And, here are two of my recent paintings to give you an idea of my current skill level.  Not at the top, but not at the bottom either. : )

| | |
| --- | --- |
| Coyote in watercolor pencil | Beagle in watercolor ~ Ellen Davis |
If you have questions or suggestions, send me a message from my contact page.
Inside Watercolor is a participant in the Amazon Services LLC Associates Program. As an Amazon Associate I earn from qualifying purchases.

---